What Indoor Foscam Camera Do I Buy?
7/12/2018
One of the most common questions we get here at Foscam UK is what camera do I need? Which Foscam IP camera suits my needs best? In this blog, we've detailed the main reasons for purchasing each camera, and our personal recommendation. We hope this can help to answer some of those questions and help you make the right choice.
If you would rather speak to one of our specialists, you can do so by calling us on 0203 441 3511.
To begin with, Foscam has 5 key models in the indoor range. Prices start from as little as £44.99 and go up to £129.99. Here are a few similarities between all models:
• They all boast an SD card slot, so you can record locally
• High-quality night vision up to 8 metres
• Built-in two-way audio; allowing you to listen and talk through the camera
• Wireless connectivity for easy, do-it-yourself installation
• Smartphone compatible, allowing you to view from any IOS or Android device from anywhere in the world
Set up is easy for all cameras. To get started, you simply plug the camera into a power socket and connect to your internet connection (either wireless or wired via ethernet cable) and you are ready to go.
All the cameras mentioned in this blog also allow you to record three different ways. Firstly, they have an on-board SD card slot, of which you can then playback your footage through the app, secure web interface and Foscam VMS software. The second method is the Foscam Cloud Service, which importantly safeguards your footage from theft or damage. You can claim your FREE 8 hours alert video history and find out more about the Foscam cloud service here. The third method is recording locally onto a Foscam Network video recorder (NVR). This is most suitable for when you have multiple cameras and require larger storage. We intend to write another blog on the Foscam NVR's we offer soon, so stay tuned!
Footage can be set to record however you want, either continuously, on a schedule or on motion detected activity.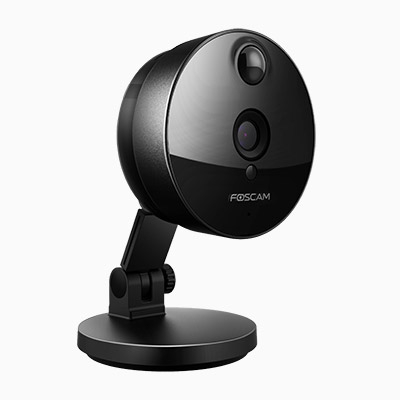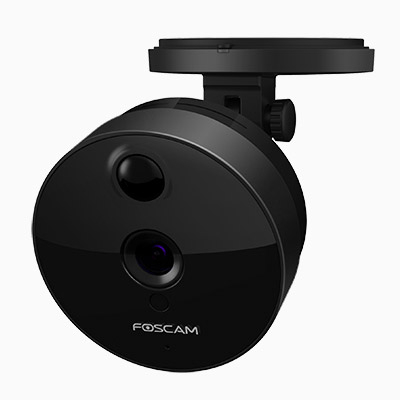 C1
So, let's start with the Foscam C1 - the perfect entry-level IP camera.
The C1, one of Foscam's most popular models, boasts great value for money at only £44.99. It has 720P HD picture quality and a large viewing angle of 110 degrees. This camera is a great choice to put into your baby's room or to watch an elderly parent. The C1 comes with a flexible "boom arm as well as a mounting base so you can wall or ceiling-mount the camera.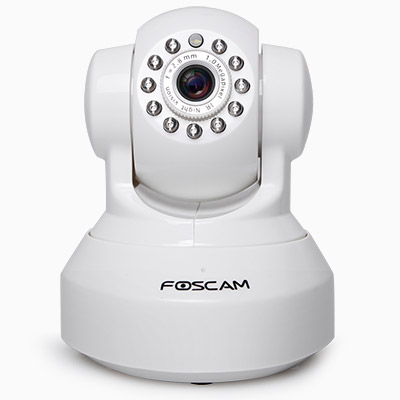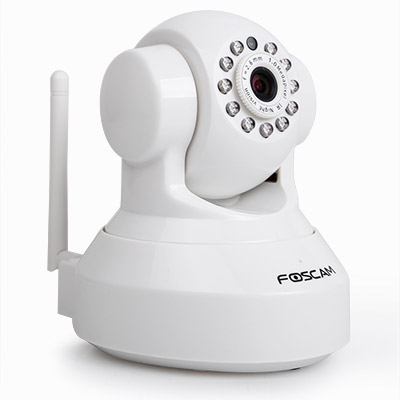 FI9816P
The Foscam FI9816P is Foscam's cheapest indoor Pan and Tilt camera. The camera has a 720P HD picture with 70 degrees viewing angle, but what's great about this camera is the ability to move the camera left, right, up and down, all remotely through the app. It comes with a robust mounting bracket, which lets you mount the camera anywhere you want. With the FI9816P only being £49.99, this is great value for a PT camera.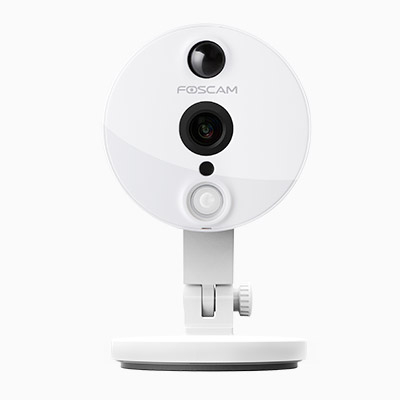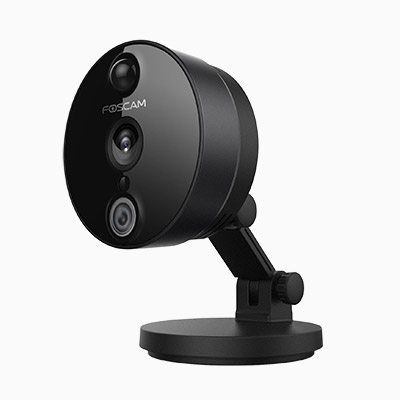 C2
The C2 is an upgraded version of the C1 (both have the same bracket and mounting options). This model though has a Full HD 1080P picture quality and 120° viewing angle. The Foscam C2 comes in a two-colour variant, Black or White, and is only £84.99. It has a built-in PIR (Passive Infrared Sensor), this basically means the C2 won't be sending you false alarms as the PIR accurately detects human heat. You can record onto an SD card - up to 128GB, which would give you 64 hours FHD footage. You can also zoom in with the C2 when you need more detail; the camera has 8x Magic Zoom.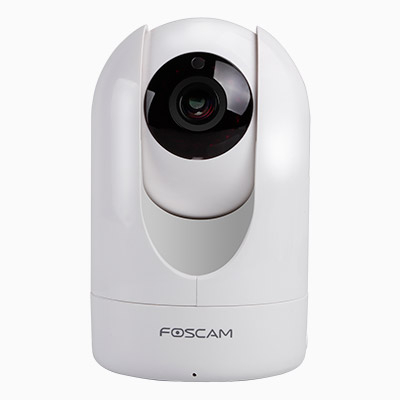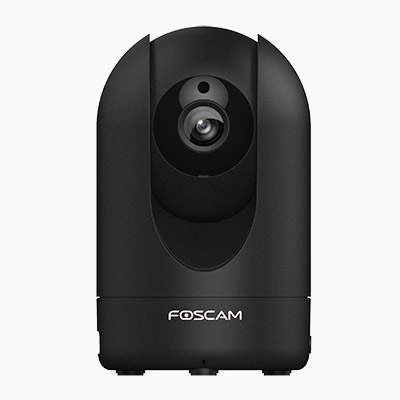 R2
The Foscam R2 is our best-selling PTZ (pan/tilt/zoom) camera and is also available in Black and White. Unlike the C2, the R2 has 300° Horizontal and 100° Vertical rotation, allowing you to see much more. The standard viewing angle of the camera is also 110°, so quite wide already! The camera is Full HD 1080P with advanced WDR technology, improving the image quality in both bright and low light areas. The camera has 13 Infrared LED's to provide a sharp 8M night vision picture. The R2 also comes with a flexible mounting bracket allowing you to wall or ceiling mount the camera. All of this for only £99.99 makes it a great choice for an indoor security camera.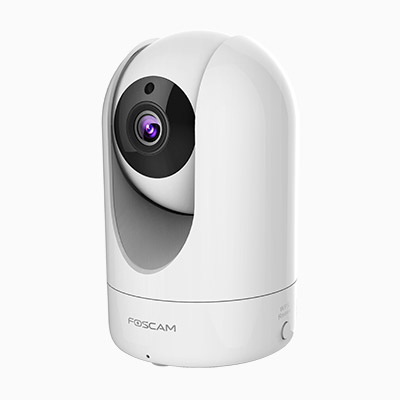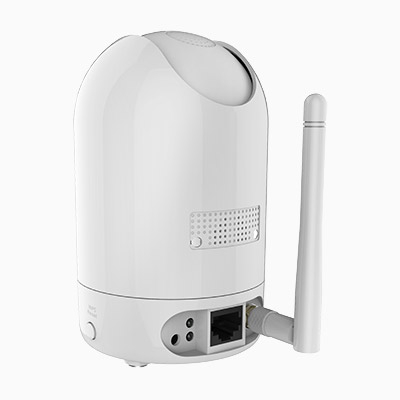 R4
The last camera on our list is the R4, which is Foscam's highest quality indoor camera, featuring incredible Ultra HD 4MP picture quality. The R4 has a 75° viewing angle, but again can pan 300° and tilt 100° remotely. Like the R2, the R4 also uses WDR technology to make the image quality even clearer. It can take up to a 128GB SD card and this would give you 32 hours' worth of footage at the highest quality setting. The R4 also comes with a flexible mounting bracket, giving you the option to wall or ceiling-mount the camera. The R4 is the more premium version of the R2 and coming in at only £129.99, its priced very competitively.
Here's a quick and easy way to compare the Foscam Indoor Cameras in the comparison table below.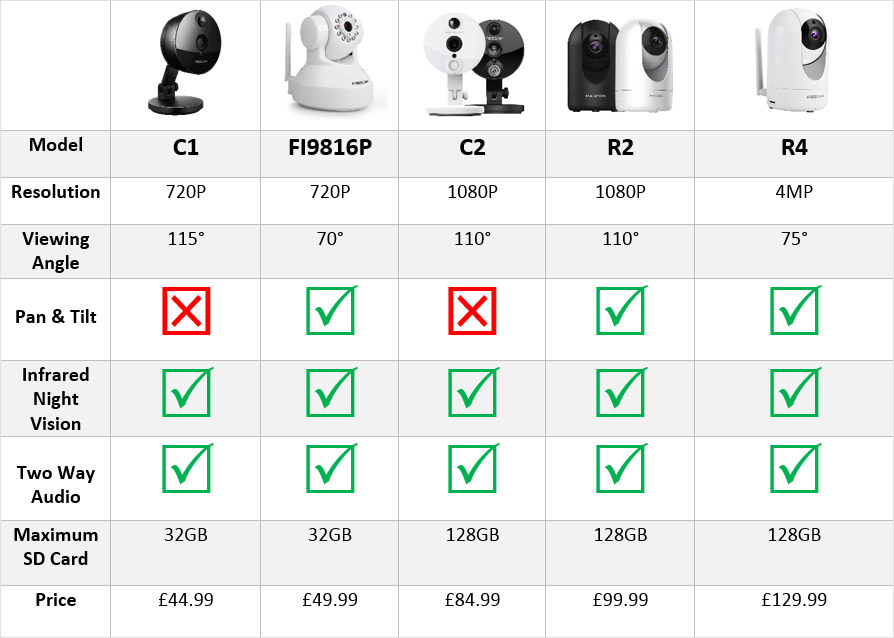 Personal Recommendation
Our personal recommendation for an indoor Foscam Camera is the Foscam R2. The camera boasts all the features you would need for an indoor camera for only £99.99. The picture quality is great and having the ability to pan and tilt around the room means you can look at everything that is going on. It also crucially lets you follow and record the action when a motion alert has been triggered - even if an intruder's movements place them outside of the camera's 110° stationary viewing range. You can set the camera on a table or you can mount it in the corner of any room. The large SD card capacity gives you peace and mind if anything happens as you can playback a lengthy time period within the app.
In summary, whichever camera you decide to go for, we're confident you will be pleased with your choice.
If you require any more information on any of the products Foscam offer, please do give us a call on 0203 441 3511.